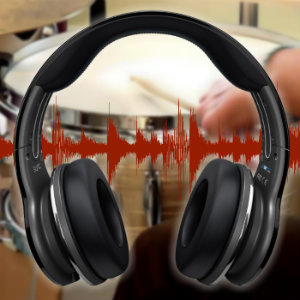 A little while ago we wrote and published an article about great songs to play drums to. In that article our students, teachers and followers on Facebook suggested some of their favourite songs to play along to on drums.
We have been receiving many requests from all over the world in response from drum students asking for help to find "drumless" tracks for good drum songs to play along to.
Below we have compiled a list of the best (and free) drumless songs available. There's also a list of other sources of play-along songs including the names of the major publishers.
What are Drumless Tracks?
Drumless, or 'Minus Drums' songs are recordings where the drum part has been taken out. This enables you to play along to the music and add the drum part yourself. It's a cool practice tool to not only help you learn new songs, but it is also great for developing timing and timekeeping skills.
Drumless tracks are also a useful practice tool to develop the skills to play in a band. Some people like to use drumless tracks and film themselves drumming. Many of these videos (aka 'Drum Covers') then make their way onto YouTube or other video sharing sites.
Drumless songs can be used by drummers of all levels, from beginner to advanced. A beginner's priority might be to use the backing track in helping learn some new grooves or to get better at playing fills. Whereas, a more experienced player might want to create his/her own version of the song with their own completely re-written or improvised drum parts.
How are 'minus-drums' songs made?
It is worth bearing in mind that there are a few different ways that the drums are removed.
There are variations in sound quality due to the way the drums are taken out. Some drumless tracks will not be the official original band version of a song, but an instrumental 'sound-alike' version.
The three main types of drumless tracks are:
Official mix without drums
Sound-alike versions
Drums EQ'd out versions
"Drums EQ'd out" means that someone has taken the original recording of a song and used mixing software to locate the main frequencies of the drum sounds, isolate them, and then remove the drums.
This process can only ever be partially successful because it will remove some frequencies from other instruments or the vocals in the mix as well. This often results in a somewhat strange sound. It also not entirely legit and the people that do this modification could be infringing the copyright of the owner of the original sound recording.
It is difficult to tell if the EQ'd-out versions of songs found online have been published legitimately or not. It is probably best to assume that if the files are available for free and they're the EQ'd-out type then you should exercise caution when downloading or streaming if you're not using a recognised website.
A sound-alike version of a song is where the music is recorded from scratch and it very closely resembles a famous song. Often the vocals don't get recorded. This means the song is more like a karaoke version (but without singing and without drums) – you could call it "drumeoke".
One advantage of using the sound-alike type of drumless song is that it is often specifically created for educational purposes. Although it doesn't sound exactly the same as the original recording, the instruments are usually mixed in a way that makes it very easy to play along to. It is also usually recorded to a click track (metronome).
With or without click?
We should mention that most 'minus drums' songs have a count-off. The count off is the clicks at the start to tell you where to come in with the drums. This means you're not guessing the tempo and you know when to come in.
Drumless tracks that have been created by modifying an original recording tend not to have a click track all the way through.
If the recording has been created specifically to be a drumless song for education purposes, then it is much more likely that the creators will publish two versions of the recording. There would usually be one version with click all the way through and one version where the clicks are only present for the count in. In our list below, most publishers have provided the two versions for you to choose which one works best for you.
Free Drumless Tracks
Here are links to some of the websites that provide FREE drumless tracks. External links open in a new window.
Vic Firth Education – vicfirth.com/drumset-playalong-tracks
Free Drum Lessons – www.freedrumlessons.com/drum-lessons/drum-play-alongs
Free Drumless Tracks – freedrumlesstracks.net (some free, some you have to pay for).
Drumless Split Songs – drumlesssplitsongs.com/index (some free examples).
YouTube – just search for 'drumless' or 'minus drums' along with the name of the song, band or genre you're looking for.
Do you know any more good sites for free play along backing tracks that we have missed? Let us know in the comments below and we'll update this list.
Places selling Drumless Songs (not free)
The main sources of drumless songs are found in official drum playalong books.
The main drum music publishers are Hudson Music, Hal Leonard, and Alfred Music. Between the three of them they cover pretty much all of the 'official' catalogue of playalong drum music.
Subscribers to Rhythm Magazine (Future Publishing) get two or three playalong drum songs plus other tracks every month with the CD that accompanies the magazine.
Online, some of the providers of free drumless tracks also sell premium content you have to pay for. For example, the website called "Free Drumless Tracks" actually only has some examples which are truly free, the rest of their catalogue is 'premium' (paid for).
Do you know any more sources of drumless tracks that are worth a mention here? Please add them below in the comments section and we'll update this article.
Join Elephant Drums and learn the drums!
Learn on full acoustic drum kits. Private tuition at drumming studios in London.
Click here for an introductory discount off your first drum lesson!
Or, join as a member for drum lessons plus additional benefits. Find out more
Subscribe to our Mailing List
We'll send you occasional updates by email. You can easily unsubscribe at any time.
Get Elephant Mail
The DRUM PASS - £25 per month
Join today for 40% off lessons and heaps of added benefits